207 High Road,
Wood Green,
London,
N22 6DR
0208 888 8860
E-mail us
Local
Information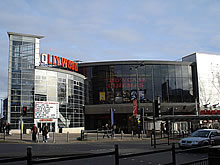 Wood Green is a busy urban activity centre with a sizeable shopping area with two cinemas, bars, nightclubs, numerous restaurants and cafes and a shopping area called Shopping City close to the tube station.
The High Road, the main shopping spine, is part of Green Lanes and stretches from the Wood Green tube station to the next stop on the Piccadilly Line, Turnpike Lane, and is lined with shops along its route. Wood Green Crown Court is a short distance along Lordship Lane. The area has also established a reputation for being vibrant and multicultural, and it has been estimated that nearly two hundred languages are spoken in the area.
Residential property in the area is mainly Edwardian and Victorian, mainly terraced houses. The area has several estates including Noel Park, one of the pioneering social housing projects of the mid 19th century, and 'Sky City', located above the shopping district. The area to the west of Shopping City is currently being developed by Haringey council to become Haringey Heartlands, an urban regeneration project which it is hoped will become a 'heartland' of the borough of Haringey, linking the wealthier Western side to the traditionally more-deprived East.
Wood Green has a very strong artistic tradition in theatre, film, TV, music and the visual arts. Mountview Academy of Theatre Arts, a world-famous acting school with strong links to both theatre and TV, is located in Wood Green.
The Chocolate Factory is full of artists studios. Beginning in 1995 as an artist-led initiative The Chocolate Factory is now the centre of a vast Cultural Quarter which includes artists, music, film & multi media studios, photographic studios, printers, 2 restaurants, recording studios and several performing arts organisations.
The Wood Green International Short Film Festival, a film festival showing short British and international films, was founded in 2002. As well as screening films, it hosts discussion groups and workshops for both established and up-and-coming filmakers. The next festival is in April 2008.
R.E.M's album Fables of the Reconstruction and The Smiths single Panic, were both recorded at Livingston Recording Studios in Wood Green.Bjork's 'Debut' was also recorded in Wood Green. Buena Vista Social Club, was recorded in Cuba but mixed in Wood Green. Artists who have recorded in Wood Green include the Libertines, Shakira, Ry Cooder, John Martyn, Jamie Cullum, Youssou N'Dour, Ash, Ronan Keating amongst others.
Public Transport
Wood Green is well served by public transport having a direct tube line to Central London and Heathrow and many bus routes, as well as overland rail.
London Underground
Bounds Green ( Piccadilly Line)
Wood Greenn (Piccadilly Line)
Turnpike Lane (Piccadilly Line)
Railway
Bownes Park
Alexandra Palace (formerly known as Wood Green Alexandra Park).
Until the 1960s, a railway line of the former Geat Eastern Railway network crossed the Wood Green High Road, at a station called Noel Park, providing connections to Stratford and North Woolwich.
Buses
A bus station is located at Turnpike Lane, there are also many buses that stop outside Wood Green tube station. It is the starting place of many bus routes including the 29 to Trafalgar Square.
Education
For details of education in Wood Green see the London Borough of Haringey website.
Primary
Broadwater Farm Primary
Alexandra Primary
Earlham Primary
Lordship Lane Primary
Nightingale Primary
Noel Park Primary
St.Michael's C of E Primary
St.Pauls RC Primary
Rhodes Avenue
Secondary
Woodside High School
Alexandra Park School
St Thomas More RC School
Higher
The University of Middlesex has a hall of residence for 161 students in Wood Green